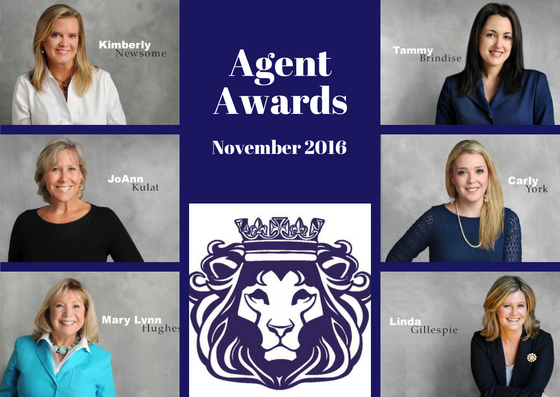 RUMSON, NJ, December 21st, 2016 — Resources Real Estate recognized several sales associates for their remarkable achievements during the month of November. The awards were announced during the company meeting on December 14th.
Sales Associate Tammy Brindise, who works in the Rumson office, was named Agent of the Month. This award is given to an agent in recognition of his or her sales success in the previous month including new listings, recent contracts and sold transactions, as well as past client recognition of their efforts, and other business-building activities.  Tammy's sales for the month of November totaled $2,634,400 from three closed transactions, and she had three properties under contract, totaling $3,825,000.
Also from the Rumson office, Sales Associate Kimberly Newsome received the Commercial Agent Award for closing six properties totaling $737,000 and for five additional properties under contract, totaling $1,460,000.
The Perseverance Award was presented to JoAnn Kulat from the Red Bank office. This honor is given to an agent whose dedication helps close a transaction despite great challenges.  JoAnn closed a short sale transaction in spite of multiple surprises and many obstacles.  Her unwavering support helped her clients achieve their goals.
The Top Listing Agent Award honors the agent with the most new listings for a given month.  For November, it was Carly York from the Atlantic Highlands office, for three new listings: two sales and one lease, all totaling $942,800.
Carly York won a second honor, the Rainmaker Award, which recognizes the efforts of agents to build their business in an innovative or otherwise significant way.  Carly produced two videos, one to promote her listing in Navesink Estates, the other to promote the general Atlantic Highlands & Highlands markets.  In addition, Carly presented a 'first home buyer seminar' at a local library and invited a loan officer as well as other industry professionals to offer beneficial information relating to homeownership.
Mary Lynn Hughes from the Atlantic Highlands office was named Featured Luxury Agent, citing her active residential listing of 6 Belvidere Road in Atlantic Highland, priced at $1,088,800.
Last but not least, Linda Gillespie from the Rumson office received the Team Spirit Award, given to an employee who extends him or herself to help colleagues and office staff.  Linda recently returned to Resources as Director of Training, having served in a training capacity at another company outside of the Monmouth County market for the past two years.  Her enthusiasm for her training role and her attention to each agent has been lifting people's spirits, and as a company, Resources wanted to acknowledge her.
"We are nearing the end of 2016, a year that has been absolutely spectacular for us," said Thomas McCormack, Managing Partner and Broker.  "Our team is made of the brightest stars and we are extremely grateful for all their hard work."
"All of the awards that Resources has been winning in the past year are testament to the dedicated efforts of our sales associates and support staff," said Carolynn Ozar-Diakon, Senior Partner and Broker.  "We are looking forward to an incredible 2017."
---
About Resources Real Estate
Resources Real Estate is an award-winning Monmouth County, NJ full-service independent residential brokerage firm, with four offices and a team of more than 75 sales and support personnel.  Resources Real Estate was opened by Carolynn Diakon in 2000. Thomas McCormack has been with the company since 2002, and joined Diakon as a partner in 2010.
Resources Real Estate locations are: 36 Beach Rd. in Monmouth Beach, NJ, 112 River Rd. in Rumson, NJ, 4A W. Front St. in Red Bank, NJ, and 65 First Ave. in Atlantic Highlands, NJ.
For more information, call (732) 212-0440 or visit http://resourcesrealestate.com
###
For more information contact:
Jane Robinson
JRobinson@resourcesrealestate.com  (732) 212-0440
Resources Real Estate, 112 E. River Rd., Rumson, N.J. 07760
Download hi-res photos: bit.ly/NovAwards2016