Saturday May 7, 2016
The Friends of the Red Bank Public Library are organizing the 9th Annual Red Bank Town-wide Yard Sale for Saturday, May 7, from 9 a.m. to 3 p.m.  Registration is open and will continue until 5 p.m. Wednesday, May 5.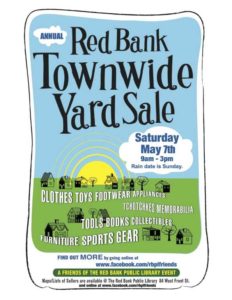 Looking to Move to Monmouth County? We have the Resources to find your dream home!  Check out ALL of our property listings at www.resourcesrealestate.com, stop into one of our offices in Red Bank, Monmouth Beach, Rumson, and Atlantic Highlands, or give us a call at 732-212-0440.