Resources Real Estate Presents Sales Associates with the August Awards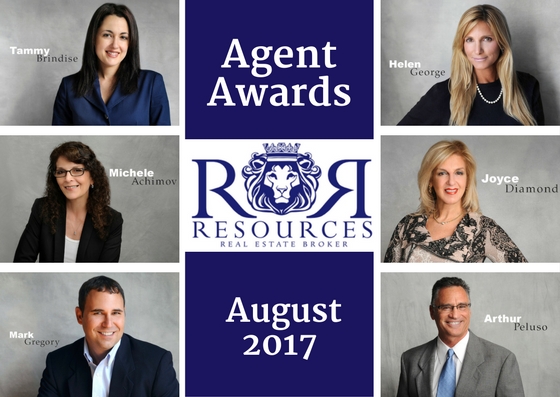 Shrewsbury, NJ, September 13th, 2017 — Resources Real Estate handed out their internal awards to several sales associates for their outstanding achievements during the month of August.  The company meeting took place on September 5th at the custom shore colonial home on 47 Shadowbrook Road in Shrewsbury.
Sales Associate Tammy Brandise, who works in the Rumson office, was named Agent of the Month.  This award is given to an agent in recognition of his or her sales success in the previous month including new listings, recent contracts and sold transactions, as well as past client recognition of their efforts, and other business-building activities.  Tammy's total business for the month of August totaled $7,147,500, including $3,712,500 in sales closings and $3,435,000 in properties under contract.  In addition, Tammy picked up the Regency Award for earning 81 agent points for the month of August through new production, recent sales and other activities.
"Tammy is an agent who embraces the power of technology without losing personal touch," said Carolynn Ozar-Diakon, Senior Partner and Broker.  "Clients love the way Tammy serves as their personal guide through the process of buying or selling a home.  Her years of experience in the local market and her knowledge of the local neighborhoods, schools, and market conditions are invaluable."
The Top Listing Agent award for August was Michele Achimov from the Red Bank office, for the four-bedroom, three-bathroom waterfront property on 20 Alwin Terrace in Little Silver, NJ, priced at $1,099,000.
Sales Associate Helen George, from the Monmouth Beach office, was presented with the Featured Luxury Agent award, which is an honor given to a sales associate active in the luxury market with a residential listing above $1 million.  Helen, a member of Luxury Real Estate's Board of Regents, represents the four-bedroom home at 3 Sailors Way in Monmouth Beach, listed for $1,100,000.
The Rainmaker Award was given to Joyce Diamond from the Atlantic Highlands office.  This award is given to a sales associate for his or her efforts to build their business in an innovative or otherwise significant way.  Joyce organized a meeting for a relocation company, enabling that company to refer their clients to Resources Real Estate.
The Perseverance Award was presented to Arthur Peluso, also from the Atlantic Highlands office.  This award is given to an agent who closes a transaction despite great challenges – in this case, multiple municipal and inspection issues, which Artie was able to help his buyer client resolve.
Lastly, Mark Gregory from the Rumson office received the Team Spirit Award, given to a sales associate who extends him or herself to help colleagues and office staff.  Mark single-handedly organized a facelift for the exterior of the Red Bank office.
"We are proud of ending summer 2017 with such great success," said Thomas McCormack, Managing Partner and Broker.  "Our agents don't just show dedication to their clients – they maintain their knowledge of the luxury market, and continuously demonstrate unity and great support to one another as well."
Resources Real Estate is an award-winning Monmouth County, NJ full-service independent residential brokerage firm, with four offices and a team of more than 95 sales and support personnel.  It has been included in Inc. Magazine's list of the fastest-growing privately owned companies in the U.S. — the Inc. 5000 — as well as the NJ Biz 250 of the top private companies in New Jersey.  It has been recognized by Who's Who in Luxury Real Estate for its innovative and superior marketing.  Resources Real Estate was opened by Carolynn Diakon in 2000. Thomas McCormack has been with the company since 2002, and joined Diakon as a partner in 2010.  Resources Real Estate locations are: 36 Beach Rd. in Monmouth Beach, NJ, 112 River Rd. in Rumson, NJ, 4A W. Front St. in Red Bank, NJ, and 65 First Ave. in Atlantic Highlands, NJ.
For more information, call (732) 212-0440 or visit http://resourcesrealestate.com
###
For more information contact:
Jane Robinson: jane@resourcesrealestate.com (732) 212-0440
Resources Real Estate, 112 E. River Rd., Rumson, N.J. 07760