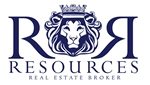 Shrewsbury, NJ, October 29, 2019. –  Monmouth County sales results were mixed for third quarter according to one local luxury broker, Resources Real Estate, who just released The Resources Report, its quarterly assessment of local market activity, showing 3rd quarter single-family sales roughly evenly split: half of surveyed towns showed the same or increased sales year to date relative to a year ago and half with fewer home sales.
"At this point in the year, we should have a clearer picture of the trends of 2019 as well as for 1st quarter 2020," said Thomas McCormack, Resources' Senior Partner and Broker. "But not only are we seeing a lack of clarity relative to sales, we're also seeing a less than clear picture regarding prices with increases and decreases year to date, evenly split. It appears the market may be shifting — across all price points."
While some area towns have experienced significant gains — such as Fair Haven with an almost 22% jump in unit sales — many others are experiencing double digit decreases in single-family sales including Monmouth Beach with an overall 34% drop. Many of the sales increases were a result of 3rd quarter activity, in some cases making up for lackluster sales for the first half of the year.
"Perhaps most interestingly, right now available inventory is up in ⅔ of the surveyed towns, as well as county-wide," said McCormack. "This is a distinct divergence from national market trends where inventories are still reportedly down significantly, driving prices higher."
The company has been reporting on the local market for over 10 years, consistently providing the public with an objective market perspective.
"We believe it is important to provide insight about our market and to provide accurate information to our clients," said McCormack. "However transitional it may seem, we remain confident in this market. We are still closing significant sales at Resources. Although there have been fewer single-family units sold this year, we've experienced an increase in dollar volume sales — almost 47% higher compared with a year ago."
McCormack was quick to add that while such impressive sales figures could be in part a reflection of rising prices, it's most certainly a testament to Resources' agents ability to close transactions across all price points including sales in the higher-end home sector which has been experiencing greater challenges than the rest of the market.
The Resources Report is available for viewing on the company's website at resourcesrealestate.com.
The firm has been recognized for its sales growth and marketing prowess including, most recently, receiving an award for Best Video Marketing from Who's Who in Luxury Real Estate in September 2019. Resources Real Estate has been recognized by Inc. Magazine for one of the fastest growing private companies in the U.S. for three consecutive years, as well as by NJBiz250 in the state, and was designated a Top Workplace for 2019 by NJ.com.