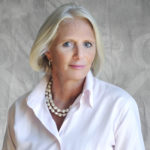 Shrewsbury, N.J. April 11th 2019 — Resources Real Estate and the family of the late Carolynn Ozar Diakon have announced the creation of The Carolynn Ozar Diakon Foundation, an organization to support the philanthropic interests of the company's founder who passed in January.
The foundation, which is currently in development, will focus its support on empowering women facing life challenges of all kinds as well as promoting the legacy of the local philanthropist. It will be directed by her husband Robert Diakon, their 3 grown children Gabriel Diakon, Christopher Ozar and Brett Diakon, as well as Thomas McCormack, Broker of Resources Real Estate.
"Carolynn was a driving force in our community and an inspiration to many," said her husband Bob Diakon. "Through the work of the foundation we wish to keep alive the values that were important to her and serve as an ongoing tribute to her memory."
Some of the activities in the planning stages include a student scholarship provided by NJ Real Estate Prep, a real estate school co-founded by Ozar Diakon, ongoing social media outreach to promote her teaching, and fundraising events to provide financial support to some of her favorite causes.
"Carolynn served on the boards and committees of many local non-profits and supported many people in need," said McCormack. "She was known for her creativity, her tremendous drive and a sometimes irreverent perspective that focused on results. The foundation will continue efforts on her behalf as well as help us to remember the strong and positive woman whom we loved and will miss."
More to come…Sign up for the buzz at www.housebuzz.com.
#carolynndiakon #resourcesrocks #resourcesproud #resourcesagentsrock