Resources Real Estate Agent Featured on HGTV's Beachfront Bargain Hunt
ELEANOR "TRISH" COLLINGS PRESENTED THE
PROPERTY ON THE POPULAR SERIES
Atlantic Highlands, NJ August 13th, 2018 – Resources Real Estate agent, Eleanor "Trish" Collings, has been chosen to feature a property on HGTV's popular "Beachfront Bargain Hunt" show. HGTV's series Beachfront Bargain Hunt follows homebuyers in search of beachfront living on a reasonable budget.
Collings works out of Resources Atlantic Highlands location. The property that was featured is located in the Leonardo section of Middletown, NJ. Collings was contacted by the Show in December, and as is the show's format, the couple, Collings' clients, made their choice from three properties in the area. The "reveal" occurred in May and the segment, aired in late June.
According to Collings, the popular show was looking for properties in the Sandy Hook area and they saw her listing. "This was a once-in-a-lifetime opportunity. Being featured on HGTV was a great honor and I thoroughly enjoyed the process," she said. "I'd love to do it again."
Collings credits the strength of Resources Real Estate's support of it's agents as being a huge advantage in the marketplace. "We are a white glove company and we receive excellent training from Resources," she said. "I'm proud to be with Resources and to be featured gave me the opportunity to show how focused we are on customer service," said Collings.
Carolynn Diakon, Founder of Resources Real Estate said, "HGTV's Beachfront Bargain Hunt is a very popular series for the channel. It was a lot of fun to see Trish and her property featured on this show. Most importantly, this selection speaks to the beauty and accessibility of our local beachfront."
"This was a great opportunity to showcase not only this particular property, but the amazing beachfront that we have in this area," said Tom McCormack, Managing Partner.
Trish Collings and her "Beachfront Bargain Hunt" can be seen on HGTV, Season 4, Episode 2.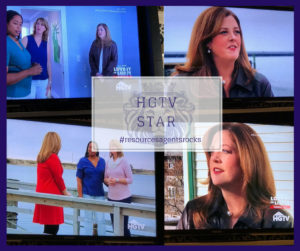 Sign up for the buzz at www.housebuzz.com.  #resourcesagentsrock #resourcesproud #resourcesrocks #hgtv