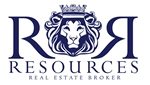 Resources Real Estate Continues to Innovate the Business of Real Estate
NEW AMAZON SHOW TO PROVIDE REAL TIME INTERACTION BETWEEN AGENTS AND CLIENTS
Shrewsbury, NJ, August 27th, 2018 — Resources Real Estate once again innovates the business of real estate — this time for both agents and clients alike.
Utilizing Amazon Show — a video conferencing system — all five Resources locations are connected by phone, internet, and now, Alexa.  Agents and support staff can talk in "real time" with the addition of the Alexa video.
A great advantage is that clients can "drop in" and speak with their agents, provided they have the same technology at home – without ever picking up the phone.  Plans to connect to other agencies via the "magic" of technology, both nationally and internationally, are underway and will aid in the smooth transactions for out of town clients.
"We can stay in touch with both our out-of-area clients and their real estate professionals," said Thomas McCormack, Managing Partner. "Resources Real Estate is a Regent's Member of the highly regarded Who's Who in Luxury Real Estate and is excited to work with our counterparts in other states and countries. We have found true professionals and individuals that we are proud to trust our with our clients in this group."
Resources Real Estate, a true "Indie" company, has always led the way in the area of real estate business innovation. Resources Real Estate was the first to have a centralized internet phone system, and a tailor-designed technology transaction system.
"Not being a part of a big box corporate real estate group – has given us the ability to blaze our own trail and individually design what we believe are the best transparent service platforms for our clients and our agents alike," said Founder, Carolynn Diakon
Sign up for the buzz at www.housebuzz.com.
#resourcesagentsrock #resourcesproud #resourcesrocks #indie