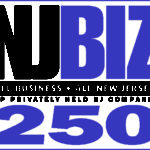 Resources Real Estate Named to NJBiz Top 250 Private Companies in New Jersey
COMPANY INCLUDED ON THE PRESTIGIOUS LIST FOR SECOND CONSECUTIVE YEAR
Shrewsbury, NJ, September 13th, 2018 -Resources Real Estate has earned a place on NJBiz's list of "Top 250 Privately Owned Companies in New Jersey for 2018". This is the second consecutive year that the company has been included on this list which ranks companies by global revenue.
"Being listed on NJBiz's Top 250 Privately Owned Companies is a terrific honor for us," said Carolynn Diakon, Founding Partner. "This list includes the biggest and the best of New Jersey's privately owned companies and to be included demonstrates Resources Real Estate's growth and market presence."
"NJBiz's Top 250 Privately Held Companies is a tremendous validation of our success," said Thomas McCormack, Managing Partner. "As an independent firm, it's important or our innovation and market presence to be seen and recognized. Resources Real Estate's position is strengthened by our repeated inclusion in this esteemed list."
The rankings for the "Top 250 Privately Owned Companies" were officially announced in the August 20, 2018, print issue of NJBiz.
The announcement comes on the heels of the company's announcement that it has also been included in the 2018 Inc. 5000 — an annual list of the fastest growing private companies in the U.S. — for the third consecutive year.
Sign up for the buzz at www.housebuzz.com .