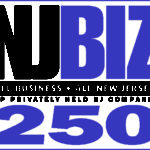 Shrewsbury, NJ, October 15, 2019 – Resources Real Estate has earned a place on the list of Top 250 Privately-Owned Companies in New Jersey for 2019 by NJBiz. This is the third consecutive year that the company has been included on this list which ranks NJ-based private companies by global revenue.
"Being listed once again on NJBiz's Top 250 Privately-Owned Companies is a true validation for us," said Thomas McCormack, Senior Partner and Broker of Resources Real Estate. "This list includes the most successful and innovative private companies in New Jersey and to be included three years in a row demonstrates Resources Real Estate's growth and market presence."
Resources Real Estate is no stranger to awards. In addition to NJBiz, the company has been named for multiple years to the Inc. 5000 list of top private companies in the U.S. as well as having been recognized as a Top Workplace and winning numerous marketing awards from Who's Who in Luxury Real Estate.
"Our success is due to our strong residential sales and expanding commercial division," said McCormack "which I believe is a result of our superior agent training and award-winning marketing. We are proud to be among NJ's elite private companies."
About NJBiz:
NJBIZ, New Jersey's leading business journal, produces a weekly print edition as well as 24/7 business news coverage through its NJBIZ.com is well-known throughout the state for its events honoring New Jersey's top business professionals.
About Resources Real Estate:
Resources Real Estate is Monmouth County NJ's premier independent brokerage serving both residential and commercial clients with an exceptional standard of professionalism and service, state-of-the-art technology and in-depth market knowledge. With over 90 sales associates and support staff, Resources Real Estate services Monmouth, Ocean and Middlesex counties and maintains strong referral relationships with brokers throughout the U.S. and internationally.  Resources Real Estate has offices in Rumson, Atlantic Highlands and Shrewsbury, NJ. Resources Real Estate has been recognized by Who's Who in Luxury Real Estate, The Board of Regents of Luxury Real Estate, Inc. 5000, NJBiz 250, are members of the Forbes Real Estate Council and was named a Top Workplace for 2019 by NJ.com. www.resourcesrealestate.com