Resources Real Estate finishes off a GREAT 2016 during which we were honored to receive the Best Overall Marketing Package Award from Who's Who in Luxury Real Estate and elated to be named by Inc. Magazine as one of the fastest growing private companies in America!
The New Year is off to a powerful start with our invitation to membership in the Luxury Real Estate Board of Regents. Resources Real Estate is honored to now be the exclusive Regent member for Central New Jersey! We are grateful to Living In Monmouth Magazine for spotlighting our recent achievements in The 2017 Guide.  See the full article below.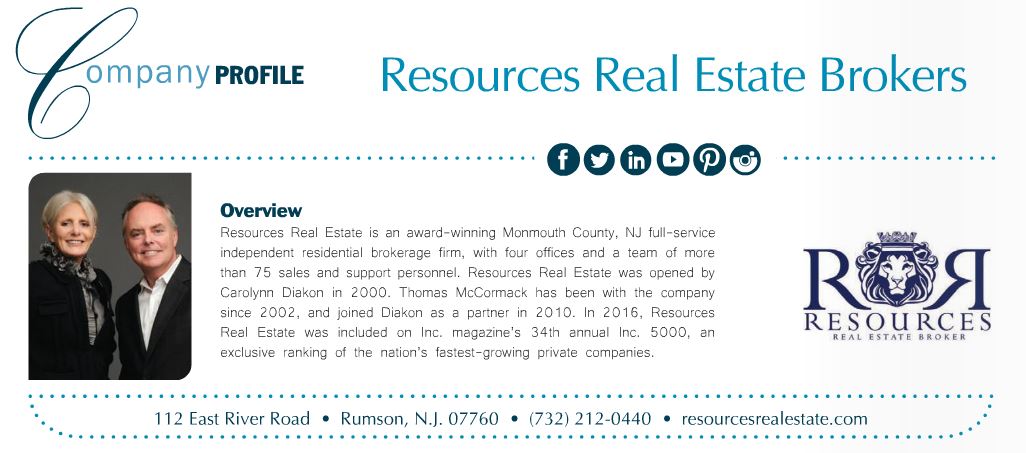 Overview
Resources Real Estate is an award-winning Monmouth County, NJ full-service independent residential brokerage firm, with four offices and a team of more than 75 sales and support personnel. Resources Real Estate was opened by Carolynn Diakon in 2000. Thomas McCormack has been with the company since 2002, and joined Diakon as a partner in 2010. In 2016, Resources Real Estate was included on Inc. magazine's 34th annual Inc. 5000, an exclusive ranking of the nation's fastest-growing private companies.
What does inclusion in the Inc. 5000 mean for your clients?
The Inc. 5000 list represents a critical segment of America's independent entrepreneurs, and we are proud to be recognized among such great company. To make the list, companies have to demonstrate a rapid revenue growth over a three-year period. In the last three years, Resources Real Estate expanded the number of its office locations from one to four, tripled the roster of its agents, and saw a growth of 137% in revenue. These strengths have helped us recruit and attract top-producing real estate professionals, local experts with track records of success who are ready to provide the highest quality services to our clients.
Resources Real Estate has earned additional distinctions in the field as well. Can you talk a little about these?
We had a very successful year in which we won the award for Best Overall Marketing Package at the 21st Annual Luxury Real Estate Awards, topping 15 other notable nominees in this category. Our submission for the Best Overall Marketing Package award highlighted the firm's copious branding and marketing tools, starting with the elegant company logo, prominently featured on all communications. All of our agents and employees implement our marketing package daily, supported by a print and online marketing team who work tirelessly throughout the year and produce magnificent results.
Resources Real Estate is recognized in Who's Who in Luxury Real Estate, a global network of select luxury real estate brokers and a resource for finding the crème de la crème of residential real estate firms around the world. We also have a growing number of agents who have earned the New Jersey Association of Realtors (NJAR) Circle of Excellence Sales Award.
What else sets you apart from other real estate agencies?
Resources Real Estate is your local Monmouth County broker with a global reach. Leveraging the most emergent technologies and social media strategies, we are more than just a real estate brokerage, we are a lifestyle company. Our agents are determined to exceed customer expectations through the passionate delivery of outstanding service. We are Monmouth County's premier luxury real estate boutique.
How full is "full service"?
We make it our business to cover all contingencies for buyers and sellers alike. With our Concierge Services at your fingertips, we offer the expected relationships with attorneys and lenders, as well as preferred services with personal chefs, assistants, travel agents and more to make your experience with Resources totally fabulous. We also offer more obscure services which may include anything from home repairs to private jet and yacht rentals. Our select and elite network of relationships and service-based companies can provide our clients with unparalleled privileges unlike anything experienced at any other firm. Here at Resources we are dedicated to providing our clientele with the highest level of customer service – attention, courtesy and, of course, discretion – to all requests.