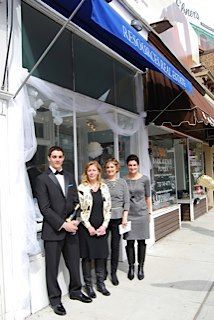 RED BANK, NJ:    RESOURCES Real Estate participated in the Red Bank Wedding Walk 2014 on March 30, 2014.
"The Red Bank Wedding Walk is a smorgasbord of information for newlyweds-to-be," said Carolynn Diakon, Broker-Senior Partner. "There are so many things to consider when planning a wedding and a life with someone. What offered were facts about the business of obtaining a mortgage."
Sponsored by the Red Bank River Center and the town of Red Bank, the Wedding Walk took place at various locations where upcoming brides sampled venues and obtained information and suggestions for planning their dream wedding.
"We had agents on hand to answer questions, especially for first-time home buyers who have never been through the process," said Thomas McCormack, Broker-Managing Partner.  "The Wedding Walk is a fun way to get educated and make choices."
Resources Real Estate is a full-service independent residential brokerage opened by Carolynn Diakon in 2000. Thomas McCormack, with the company since 2002, joined her as a partner in 2010. Resources Real Estate is located at 112 East River Road in Rumson, NJ, 36 Beach Road in Monmouth Beach and 4A West Front Street in Red Bank, NJ and 65 First Avenue in Atlantic Highlands. For more local real estate information or to inquire about a career in real estate, you can call (732) 212-0440 or visit resourcesrealestate.com.