Resources Real Estate presents sales associates with the October Awards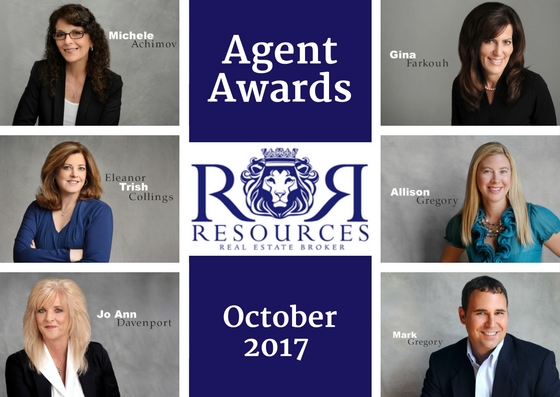 Middletown, NJ, November 27th 2017 — Resources Real Estate presented several sales associates with internal awards to honor their outstanding achievements during the month of October 2017.  The company meeting took place on November 1st at the Middletown Public Library.
Sales Associate Gina Farkouh, who works in the Rumson office, was named Agent of the Month.  This award is given to an agent in recognition of his or her sales success in the previous month, including new listings, recent contracts and sold transactions, as well as past client recognition of their efforts, and other business-building activities.  Gina's total business for the month of October was $2,855,900, including $312,000 in sales closings, new listings totaling $858,700, and close to $1,676,200 in properties under contract.  Gina also received the Top Listing Agent Award for representing three listings in Rumson and Red Bank totaling $858,700.
"Gina's wealth of knowledge of local homes, as well as educational environments recreational and after-school programs has made her very popular with her clients," said Carolynn Ozar-Diakon, Senior Partner and Broker.  "Her firsthand experience with new construction and development gives her a unique perspective that transcends the average realtor's know-how."
Sales Associate Michele Achimov, from the Red bank office, was presented with the Featured Luxury Agent award, which is an honor given to a sales associate active in the luxury market with a residential listing above $1 million.  Michele represents the four-bedroom, three-bathroom waterfront home at 20 Alwin Terrace in Little Silver, listed for $1,099,000.
The Rainmaker Award was given to Allison and Mark Gregory from the Red Bank office.  Allison and Mark founded the Todd Book Break, a library box in honor of Norma Todd, the former owner of their house at 109 Bank Street in Red Bank.  For 25 years Mrs. Norma Todd was the Executive Director and the heart and soul of Lunch Break, an organization that freely provides food, clothing, life skills and fellowship to those in need in Monmouth County and beyond.  The library box is open to the public and allows children in the area borrow books as well as leave donated books.  The ribbon cutting ceremony for Todd Book Break hosted such esteemed guests as the current executive director of Lunch Break, several local politicians, and colleagues from Resources Real Estate, who assisted with refreshments and distributing flyers to get the word out.
The Perseverance Award was given to Trish Collins from the Atlantic Highlands office.  This award is presented to an agent who closes a transaction despite great challenges.  Trish's devotion and determination helped overcome various obstacles and achieve success for her clients.
Lastly, JoAnn Davenport from the Red Bank office received the Team Spirit Award, given to a sales associate who extends him or herself to help colleagues and/or the company as a whole.  Her colleague Patrice George nominated Joann for her assistance with a commercial property transaction.
"Our agents go beyond the regular representation of their clients," said Thomas McCormack, Managing Partner and Broker.  "We have always taken pride in our agents' knowledge of the luxury market, but it's their drive, their going-the-extra-mile attitude, and their personal touch that makes the Resources agents unique."
About Resources Real Estate:
Resources Real Estate is an award-winning Monmouth County, NJ full-service independent residential brokerage firm, with four offices and a team of more than 95 sales and support personnel.  It has been included in Inc. Magazine's list of the fastest-growing privately owned companies in the U.S. — the Inc. 5000 — as well as the NJ Biz 250 of the top private companies in New Jersey.  It has been recognized by Who's Who in Luxury Real Estate for its innovative and superior marketing.  Resources Real Estate was opened by Carolynn Diakon in 2000.  Thomas McCormack has been with the company since 2002, and joined Diakon as a partner in 2010.  Resources Real Estate locations are: 36 Beach Rd. in Monmouth Beach, NJ, 112 River Rd. in Rumson, NJ, 4A W. Front St. in Red Bank, NJ, and 65 First Ave. in Atlantic Highlands, NJ.
For more information, call (732) 212-0440 or visit http://resourcesrealestate.com
###
For more information contact:
Jane Robinson
jane@resourcesrealestate.com (732) 212-0440
Resources Real Estate, 112 E. River Rd., Rumson, N.J. 07760