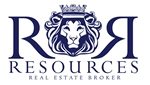 Shrewsbury, NJ, October 30, 2019 — Resources Real Estate announced a record number of client commendations were received by the company in September acknowledging the superior service of their agents and staff. The testimonials were first published at the company's Shrewsbury sales office during a company-wide meeting on October 9th that also acknowledged recent sales achievements.
"We continually solicit feedback from our clients and are always heartened by the positive response to our service," said Thomas McCormack, Senior Partner and Broker. "It's wonderful for all of us to hear how the work we do changes lives for the better and to receive so many in one month was exciting."
Allison Gregory, sales associate in the Shrewsbury office, was named Agent of the Month for the 6th time this year. This award recognizes an agent for top sales success in the previous month, including new listings, recent contracts and sold transactions.
Mary Lynn Hughes, broker associate in the Atlantic Highlands office, was named Top Listing Agent for securing the greatest number of residential listings.
Broker associate Deborah Toledano (Shrewsbury) was awarded Commercial Agent of the Month.
Joyce Diamond, sales associate (Atlantic Highlands), received the Perseverance Award, an honor presented to an agent who closes a transaction despite great challenges.
The Rainmaker Award was presented to sales associates Jeannette Sieh (Atlantic Highlands) and Silvia Ferreira (Rumson) an honor bestowed on a sales associate for efforts to build business in an innovative or otherwise significant way. Jeannette and Stacey's focus on hyperlocal marketing using video and social media was heralded as a model for new business development.
Lastly, sales associates Ana DeSilva from the Shrewsbury office received the Team Spirit Award for her continued support of her colleagues.
 "We are pleased to close the third quarter with such a strong sales and service record," said McCormack. "And we look forward to closing out the year on a powerful note."
#resourcesrocks #resourcesproud #resourcesagentsrock