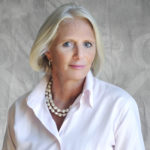 RESOURCES REAL ESTATE MOURNS THE LOSS OF COMPANY FOUNDER, CAROLYNN DIAKON
SHREWSBURY, NJ  January 29, 2019:  With great sadness, Resources Real Estate announced the passing of founder and Senior Partner, Carolynn Diakon, at home among family on January 27, 2019.
Diakon created Resources Real Estate to fill a need for an independent, non-corporate, agency with a highly trained sales and support staff and top-of-the-line marketing. She opened her first location in 2000. Her focus was always on providing exceptional service to clients and hiring agents who subscribed to the highest level of professionalism, ethics and training.
Diakon's bold, sometimes brash, out-of-of-the-box thinking yielded great results which resulted in the company's numerous accolades including being listed on Inc. Magazine's list of the fastest growing private companies in the U.S. — the Inc. 5000 — for three years running, as well as NJBiz250 which similarly recognizes the top private companies in New Jersey.  The company has also received multiple awards for its marketing.
Active in her local community, Diakon was a philanthropist and advocate for many causes. She worked and supported numerous local charities including Monmouth Historical Association, Mental Health Association of Monmouth County, Lunch Break and 180 Turning Lives Around and was awarded the Clara Barton Corporate Humanitarian Award by the NJ Red Cross in 2013. Diakon was a contributor to the Huffington Post and Forbes.com, a frequent recipient of the NJ Realtor Circle of Excellence award, a member of Who's Who in Luxury Real Estate, the Board of Regents of Luxury Real Estate and the Forbes Real Estate Council.
Both of Diakon's adult children, Christopher Ozar and Gabrielle Diakon, are currently agents with the company and have expanded the company's business into Hudson County, NJ. Her husband, Bob Diakon, has been an active participant in the company's activities.
Along with partner Thomas McCormack, Diakon grew the company to over 90 agents and staff with four sales locations including its new Shrewsbury office which opened last week. Diakon was always active in expanding the company and new business development. This past year the company opened a real estate school, NJ Real Estate Prep, a corporate management and marketing center and a title company, Resources Title.
"Carolynn's passing is a tremendous loss, not just for Resources Real Estate, but for the entire real estate community," said McCormack. "We have heard from agents across the country and around the globe expressing their grief. She had a commanding and dynamic presence that filled the room. Her passion for living life to the fullest, persevering despite obstacles and always striving for something greater has inspired many both within and outside our company to excel. And that legacy will be felt for years to come."